Jake #4 - Provo, UT - Christmas at the MTC
Family and Friends,
So Christmas was a blast. The Apostle Elder Nelson came and spoke about the 9 facets of the gospel. We also had a talent show and watched 'Ephraim's Rescue.' I had a great time, though I really was quite sore from sitting literally all the waking day.
It was nice to have a Christmas apart from the world. I recommend reading the gospel of Matthew and Luke to get a full story of Jesus's birth. I also saw the movie 'The Nativity' on Christmas Eve. It was another interesting movie.
So a thought. In Matthew 14, we go back 2000 years roughly and Jesus just found out his cousin, John the Baptist, has been beheaded. So Jesus goes up a mountain to pray and tells His disciples to meet Him on the other side of the lake. They start sailing to the other side. I imagine visibility was quite low, as it was dark and stormy with waves and wind.


As they, in the midst of the waters, see a human-like shape walking toward them. They do what any person would and freak out thinking that some spirit is coming. Jesus says, 'Relax' and keeps walking toward them. So 11 of them are like, 'Wow He is walking on water,' and Peter is going, 'Hey, I love that guy and I'd kinda like to walk on water.' So think now to 1 Nephi 3:7 aka God will provide a way to follow all commandments. So Peter says to Jesus. "Lord, if it be thou, bid me come unto thee on the water." Because he knows if The Lord asks him to come he will be able.

So Jesus does, and I imagine he doesn't step out as that would be doubting and at this time he has no doubt. So I imagine he Jumps over the side of this boat in harsh conditions and starts walking towards Jesus. After a moment the harsh winds cause him to become fearful, and he starts to sink. And Jesus immediately stretched forth His hand, lifts him up and sets him back on top of the water and walks back to the boat friendly telling him why did you doubt? Have more faith.
So three things I love here:
1) That God ALWAYS provides a way to follow his commandments
2) That because Jesus has gone below all things has suffered all things he can reach below all things, We cannot sink far enough that He will still not be able to give us a helping hand
3) That Jesus meets us half way. If we come to Him, He will come to us. All we have to do is ask. This occurred both with meeting His disciples half way on the water and immediately helping Peter when he had asked.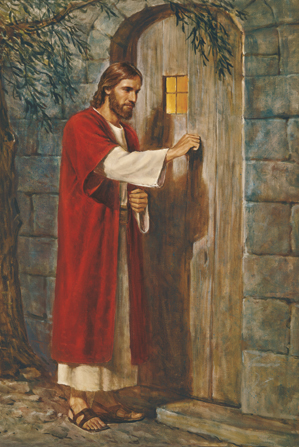 He is standing at the door knocking, but only we can open in it to let Him in.
Merry Christmas,
Elder Bowman